Foros y Eventos
Medicus politicus: notas sobre una historia política de la medicina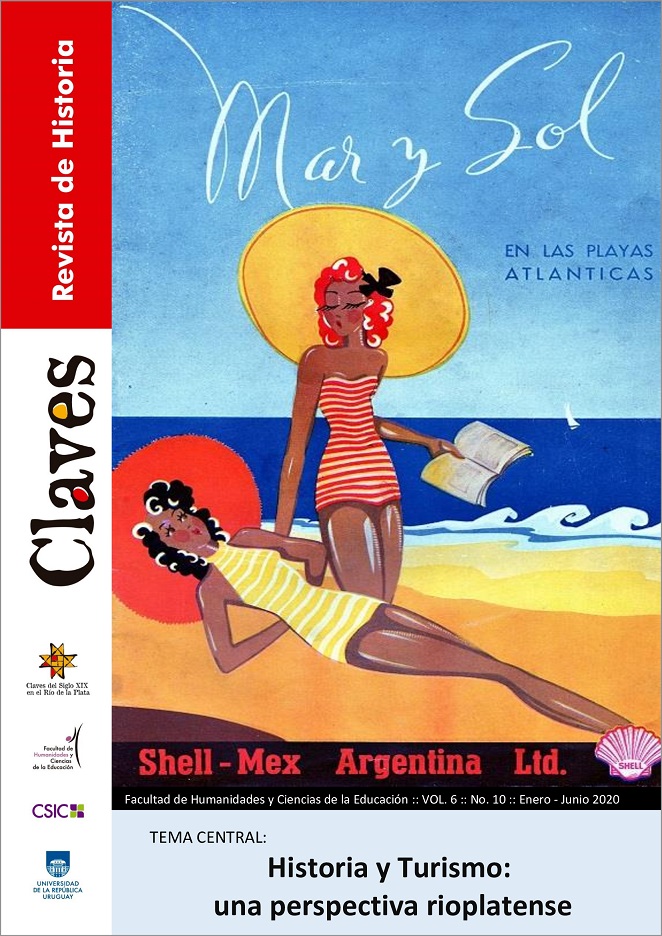 Publicado 2020-06-21
Cómo citar
Mandressi, R. . (2020). Medicus politicus: notas sobre una historia política de la medicina. Claves. Revista De Historia, 6(10), 273–283. https://doi.org/10.25032/crh.v6i10.12
Resumen
Valiéndose del análisis de cuatro ejemplos de intervenciones de médicos en los siglos XVI a XVIII, el autor llama la atención sobre la presencia de los médicos en la toma de decisiones políticas, y destaca la fertilidad de los aportes de una historia política de la medicina.
Citas
Bardi, Girolamo, Medicus Politico-Catholicus, seu Medicinæ Sacræ tùm cognoscendæ, tum faciundæ idea, Génova, Giovanni Maria Farroni, 1643.
Castro, Rodrigo de, Medicus-Politicus: Sive De Officiis Medico-Politicis Tractatus, Hamburgo, Froben, 1614.
Hobbes, Thomas, De corpore politico. Or The elements of law, moral & politick. With discourses upon several heads; as of the law of nature. Oathes and covenants. Severall kind of government. With the changes and revolutions of them, s.l., J. Martin & J. Ridley, 1650.
————— Leviathan, Or the Matter, Forme and Power of A Commonwealth Ecclesiasticall and Civil, Londres, Andrew Crooke, 1651.
Hoffmann, Friedrich,. Medicus politicus, Leiden, Philippus Bonk, 1738.
López de Hinojosos, Alonso, Summa y recopilacion de chirurgia, con un arte para sangrar muy útil y provechosa, México, Antonio Ricardo, 1578.
Machiavelli, Nicolò, Discorsi... sopra la prima deca di T. Livio. In: Tutte le opere di Nicolo Machiavelli... divise in V parti, s.l., s.n., 1550.
Salimbene de Adam, Cronica fratris Salimbene de Adam, ordinis minorum, Oswald Holder-Egger (ed.), Monumenta Germaniæ Historica, Scriptorum, tomo 32, Hanover y Leipzig, 1905-1913.
Andretta, Elisa. «Les Médecins du conclave: l'élection pontificale entre médecine et politique au début de l'époque moderne», Chrétiens et Sociétés, Vol. 19, 2012, pp. 19-38. Disponible en: https://journals.openedition.org/chretienssocietes/3307
————— y Marilyn Nicoud, Etre médecin à la cour (Italie, France, Espagne, XIIIe-XVIIIe siècle), Florence, SISMEL-Edizioni del Galluzzo, 2013.
Certeau, Michel de, La possession de Loudun, Paris, ediciones Gallimard y Julliard, Collection Archives, 1970. (Existe edición en español: La posesión de Loudun, México, Universidad Iberoamericana, 2012, Colección El oficio de la Historia).
Collins, Harry y Robert Evans, «The Third Wave of Science Studies. Studies in Expertise and Experience», Social Studies of Science, Vol. 32, N.º 2, 2002, pp. 235-296.
Daston, Lorraine, «The History of Science and the History of Knowledge», Know: A Journal on the Formation of Knowledge, Vol. 1, N.º 1, 2017, pp. 131-154. Disponible en: https://www.journals.uchicago.edu/doi/full/10.1086/691678.
Dawbarn, Frances, «Patronage and Power: The College of Physicians and the Jacobean Court», The British Journal for the History of Science, Vol. 31, N.º 1, 1998, pp. 1-19.
De Renzi, Silvia, «La natura in tribunale: conoscenze e pratiche medico-legali a Roma nel XVII secolo», Quaderni Storici, Vol. XXXVI, N.º 3, 2001, pp. 799-822;
—————, «Medical Expertise, Bodies, and the Law in Early Modern Courts», Isis, Vol. 98, N.º 2, 2007, pp. 315-322.
Furdell, Elizabeth Lane, The royal doctors 1485-1714: medical personnel at the Tudor and Stuart courts, Rochester, University of Rochester Press, 2001.
Gaille-Nikodimov, Marie, «A la recherche d'une définition des institutions de la liberté. La médecine, langage du politique chez Machiavel», Astérion, Vol. 1, 2003, pp. 70-86. doi: 10.4000/asterion.14
Gerbier, Laurent, «Médecine et politique dans l'art machiavélien de la prévision», Nouvelle Revue du Seizième Siècle, Vol. 21, N.º 1, 2003, pp. 25-42 .
————— «Malattie et differenze. Les fondements de l'art politique de Machiavel», Cahiers Philosophiques, Vol. 97, 2004, pp. 23-39.
Jacob, Christian, Les lieux de savoir, París, Albin Michel, 2007 y 2011.
Jasanoff, Sheila, «Breaking the Waves in Science Studies: Comment on H.M. Collins and Robert Evans, 'The Third Wave of Science Studies'», Social Studies of Science, Vol. 33, 2003, pp. 389-400. Disponible en: https://journals.sagepub.com/doi/pdf/10.1177/03063127030333004?casa_token=oYOsLZbH9F8AAAAA:2BXDxDtq1ipMOKR1UVwke6i1lV-diW8HqJRh3sHcsyWq738VToLLcVz5wi0vkpJ2jHAoIUC_iiwPQg.
Lunel, Alexandre, La Maison médicale du roi, XVIe-XVIIIe siècles. Le pouvoir royal et les professions de santé, Seyssel, Champ Vallon, 2008.
Mandressi, Rafael, «Les médecins et le diable: expertises médicales dans les cas de possession démoniaque au XVIIe siècle en France», Chrétiens et Sociétés, Vol. 13, 2006, pp. 35-70.
————— «Félix Vicq d'Azyr: l'anatomie, l'État, la médecine. Une carrière scientifique entre Ancien régime et Révolution», Medic@, Bibliothèque Inter Universitaire de Santé, [En línea], Disponible en : https://www.biusante.parisdescartes.fr/histoire/medica/presentations/vicq.php.
————— «'Je suis pensionnaire de Monseigneur, un trahistre, espion': Jean Riolan fils, agent de Richelieu», in: Maria Antonietta Visceglia, Elisa Andretta, Paola Volpini y Elena Valeri (eds.), Tramiti. Figure e spazi della mediazione politica, Rome, Edizioni Viella, 2015, pp. 103-134.
————— «L'Essai sur les lieux et les dangers des sépultures, ou la politique par l'imprimé», in: Anne Carol y Régis Bertrand (eds.), Aux origines des cimetières contemporains. Antécédents et postérité du décret du 23 Prairial an XII (12 juin 1804), Aix-en-Provence, Presses Universitaires de Provence, 2016, pp. 52-64.
Mandrou, Robert, Magistrats et sorciers en France au XVIIe siècle, París, Librairie Plon, 1968.
Menenteau, Sandra, L'autopsie judiciaire. Histoire d'une pratique ordinaire au XIXe siècle, Rennes, PUR, 2013.
Nutton, Vivian, Medicine at the Courts of Europe, 1500-1837, Londres, Routledge, 1990.
O'Neill, Ynez Violé, «Innocent III and the Evolution of Anatomy», Medical History, Vol. 20, 1976, pp. 429-431.
Paravicini Bagliani, Agostino. Medicina e scienze della natura alla corte dei papi del Duecento. Spoleto, Centro italiano di Studi sull'Alto Medio Evo, 1991.
————— Il corpo del Papa, Turín, Einaudi, 1994, pp. 280-281.
Pardo Tomás, José, «Opening bodies in a New World: Anatomical Practices in Sixteenth-Century New Spain», in: Giuseppe Olmi y Claudia Pancino (eds.), Anatome: Sezione, scomposizione, raffigurazione del corpo fra Medioevo e Età Moderna, Bolonia, Bononia University Press, 2013, pp. 185-286.
————— «Médecine et histoire naturelle. Francisco Hernández au Mexique ou le médecin voyageur comme historien de la nature du Nouveau Monde, 1570-1577», Histoire, Médecine et Santé, Vol. 11, 2017, pp. 77-97. Disponible en: https://journals.openedition.org/hms/1100.
Pastore, Alessandro, Il medico in tribunale. La perizia medica nella procedura penale di antico regime (secoli XVI-XVIII), Bellinzona, Edizioni Casagrande, 1998.
Pestre, Dominique, Introduction aux Science studies, París, La Découverte, 2006.
Pomata, Gianna, «Malpighi and the holy body: medical experts and miraculous evidence in seventeenth-century Italy», Renaissance Studies, Vol. 21, 2007, pp. 568-586.
Porret, Michel, «La médecine légale entre doctrines et pratiques», Revue d'Histoire des Sciences Humaines, Vol. 22, 2010/1, pp. 3-15. Disponible en: https://www.cairn.info/revue-histoire-des-sciences-humaines-2010-1-page-3.htm#.
————— y Fabrice Brandli, Les corps meurtris. Investigations judiciaires et expertises médico-légales au XVIIIe siècle, Rennes, Presses Universitaires de Rennes, 2014.
Romano, Antonella, «Fabriquer l'histoire des sciences modernes. Réflexions sur une discipline à l'ère de la mondialisation», Annales HSS, Vol. 70, N.º 2, 2015, pp. 381-408.
Smith, Pamela H., «Science on the move: recent trends in the history of early modern science», Renaissance Quarterly, Vol. 62, 2009, pp. 345-375.
Thomas, Marion, «Entre médecine et politique: Félix Vicq d'Azyr et la lutte contre la peste bovine sous l'Ancien Régime», Bulletin d'Histoire et d'Epistémologie des Sciences de la Vie, Vol. 19, N.º 1, 2012, pp. 97-126. Disponible en: https://www.cairn.info/revue-bulletin-d-histoire-et-d-epistemologie-des-sciences-de-la-vie-2012-1-page-97.htm.
Varey, Simon, Rafael Chabrán y Dora B. Weiner (eds.), Searching for the secrets of nature: the life and works of Dr. Francisco Hernández, Stanford, Stanford University Press, 2000.
Vauchez, André, La Sainteté en Occident aux derniers siècles du Moyen Âge, d'après les procès de canonisation et les documents hagiographiques, Roma, École française de Rome, 1988.
Veiga Frade, Florbela y Sandra Neves Silva, «Medicina e política em dois físicos judeus portugueses de Hamburgo. Rodrigo de Castro e o Medicus Politicus (1614), e Manuel Bocarro Rosales e o Status Astrologicus (1644)», Sefarad, Vol. 71, N.º 1, 2011, pp. 51-94. Disponible en: http://sefarad.revistas.csic.es/index.php/sefarad/article/view/633.
Ziegler, Joseph, «Ut dicunt medici: Medical Knowledge and Theological Debates in the Second Half of the Thirteenth Century», Bulletin of the History of Medicine, Vol. 73, 1999, pp. 208-237. Disponible en: https://www.jstor.org/stable/44445978.
————— «Practitioners and Saints: Medical Men in Canonization Processes in the Thirteenth to Fifteenth Centuries», Social History of Medicine, Vol. 12, 1999, pp. 191-225.